"Our home, our family, our passion… Bannister Downs is very much the place that we are so connected to, and also so proud to be a part of. With fourth generation family now reaching adulthood, it is exciting to consider what may be ahead in the future. There is always plenty to do, and when there is a chance to look back on what has been achieved in the past almost century of farming at Bannister Downs, it inspires us for the challenges and opportunities that we have ahead. We wouldn't want to be doing anything else" – The Daubney Family
Bannister Downs Dairy Farm was founded in Northcliffe in the South West of Western Australia by pioneers Edith and James Daubney in 1924.
The farm, which was named in honour of Edith's business acumen (her maiden name was Bannister), remains in the Daubney family's hands today and is run by Edith and James' grandson Mat, together with his wife Sue and their four children. Proud dairy farmers for nearly 100 years, the Daubney family has a long legacy of raising happy and healthy cows which produce delicious fresh milk every day. The story of Bannister Downs Dairy started with Edith and James and was continued by their children, who made it possible for the modern business we know today, which has since been developed with the innovative spirits in Mat and Sue Daubney.
Mat and Sue were married in 1998 and shortly after put their hand up to take over management of the family business and farm at Bannister Downs.  Not long after, deregulation of the dairy industry in WA (2000) created a significant destabilisation and also the opportunity for the young and eager couple to try their hand at something courageous.
"We talked for a long time about the possibility of processing and bottling our own milk," Sue said. "We were finding it hard to see a rewarding future in handing our milk over at the farm gate and not having further responsibility for it."
In the early days, the Daubney family had very little control over the price of milk and no huge focus on its quality, because the goals were always centred around daily volume.
"We were being paid as little as 13 cents per litre for our raw milk back then," Sue said. "At the same time, we found production costs were skyrocketing so after having our third child, I found myself researching other possibilities while I had time at home."
The result of a fair bit of research and many hours on the computer was a successful application for a 'start up' grant (Thank you Federal Department of Industries and Resources, 2004!!)  which provided the necessary seed capital for the Daubney family to vertically integrate their dairy business and move Bannister Downs Dairy into a position where they could offer 'farm to fridge' product direct to Western Australian dairy consumers.
"From that moment onwards, we felt that as tough as it was to be responsible for a growing business, we had started to gain control of our own destiny, control of the quality and presentation of our own milk and also how we looked after Our Girls, our family and our team here at Bannister Downs" -  Sue said.
It came down to three key considerations for the Daubney family: People, Place, Product.
"Each time there is a decision to be made, we review how it will impact on our team and cows (People), our farm, environment and facility (Place) and the food safety and quality of what we produce (Product).   By always considering each of these important elements of Bannister Downs, we feel that we create a strong foundation for our business, for the future and also meet our own personal expectations and values" - Sue Daubney
---
After having several years of loyal support within Western Australia, the Bannister Downs team wanted to go even further to be at the front lines of innovation in the Australian, and indeed the global dairy industry. That's where a very special partnership with Mrs Gina Rinehart and Hancock Prospecting was formed (read more).
Mrs Rinehart and her team offer a multitude of wisdom and expertise in all aspects of a considerably larger scale business operation, and are absolutely passionate about Australian Agriculture and the future of our great country.  With an eye for opportunity and a very forward thinking vision (particularly for the adoption of technology in agriculture and the development of practices to prioritise animal welfare), we are very fortunate to have our partnership and to share the same family principals that we value, at its core. Thanks to the added investment, support, and commitment to Bannister Downs Dairy, the development and construction of our state-of-the-art facility, The Creamery, was completed in 2018. The Creamery houses our world leading voluntary robotic dairy technology, our traditional low temperature pasteurisation bespoke process equipment, our sustainable packaging systems, our dispatch and storage space, as well as our onsite café, The Kitchen Table, and our Bannister Downs head office.
The Creamery is the real 'hub' of our farm here at Bannister Downs and it allows us to ensure every single detail is being met to deliver ethical, sustainable and award-winning dairy to our customers every day - it's very hands-on.
"It reminds us where we started," Sue said. "Mat and I have worked every element of this farm. As we have grown, it still isn't uncommon to find Mat or myself driving a truck to do the deliveries, working late at night to finish off administration requirements or getting hands on processing milk and milking cows."
That hands-on approach isn't going anywhere. The hands-on approach drives us to ensure we continue to provide a premium quality product for our customers," Sue said. "At the heart of everything, at the end of the day, that premium product is what makes us proud to be West Australian dairy farmers.
If you are looking for the closest location to purchase your Bannister Downs Fresh milk, creams and flavoured milks, head to our store locator where you will find a list to choose from, according to your most convenient location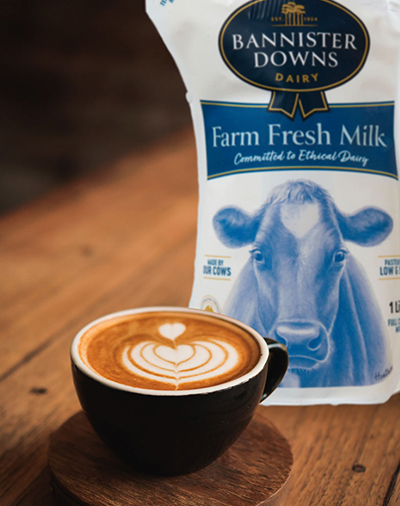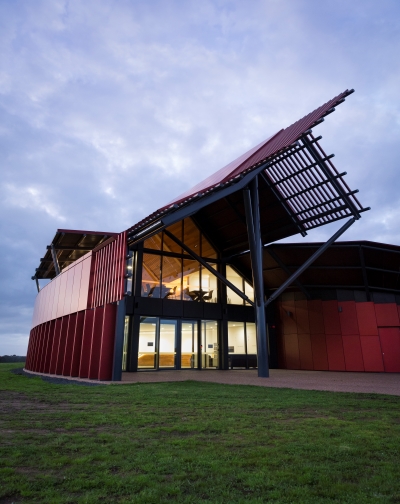 Designed over several years by Bosske architects and constructed by Perkins Builders (Bunbury) the Creamery was a large and exciting project for everyone involved.  Apart from winning several design and construction awards, it is a wonderful place to see our girls each day, to process, fill and dispatch our products daily and to do our best to look after our team and customers from our administration.  Click here to read in more detail