Ethical farming practices have been at the heart of our life here at Bannister Downs Farm for very close to 100 years.  We are pleased to see a growing interest by consumers in ethical farming practices, as well as transparency from the agriculture sector, because it means we have more opportunity to share how we achieve what we care about most – raising happy and healthy cows every day.
Within the dairy industry, there can be considerable controversy centred around animal handling practices, but we can confirm that we endeavour to make sure that all of our farming practices are based on ethical principles and we absolutely condemn mistreatment of animals in any guise. We are dairy farmers because we are passionate about raising happy and healthy cows. We have full control over the welfare of our own animals and we take that responsibility seriously.
Unlike many European, Asian and many American dairy farming models, Our Girls are free range, as are most dairy herds in Australia.
We have acres of green pastures which are located in the high rainfall environment at Northcliffe, meaning there is always lots of food available for Our Girls to graze.  We also do our best to encourage the growth of highly nutritious pasture varieties which help Our Girls thrive.  Our moderate climate in Northcliffe is just right for dairy farming – we don't often experience extreme temperatures and we enjoy reliable rainfall so Our Girls live a very temperate and comfortable existence in our paddocks, with plenty of shade thanks to the high proportion of native trees that we have retained along with many 'patches' of untouched native bush areas (on farm), and of course the stunning National and State forests that surround us.
When it comes to handling Our Girls, it has always been important to us that we make sure we are using the world's best practice as our benchmark for how we look after our herd and their calves. The farm team, which is lead by third generation farmer Mat Daubney, ensures there is minimal stress for our dairy cattle.  The comfort of Our Girls is our number one priority at all times of day and night, seven days a week.  For generations, the Daubney family has taken up the responsibility to stay current with the world's best practice in animal welfare as it applies to dairy farming and this tradition continues every day at Bannister Downs Dairy.  We are constantly learning and increasing our knowledge base to maintain up-to-date understanding and implementation of world leading animal welfare standards at our farm and dairy.
We also consider our environmentally friendly and sustainable farming practices as part of the work we do as we strive to be global leaders in ethical dairy.  As consumer concern for ethical farming practices has grown to include the global conversation on sustainability, we have been delighted to be able to demonstrate our long-term commitment to sustainable food production.  That commitment started with the Daubney family group settlers, who recognised the pristine environment of Northcliffe as a precious place to live, work and raise cattle surrounded by the stunning natural forest.  That early understanding of and respect for our surrounding natural environment has continued into the modern era of farming at Bannister Downs Dairy with the 15-year-long sustainable packaging partnership with Ecolean demonstrating our commitment to deliver a product which is not only delicious, but also eco-friendly.
For us, ethical farming is about achieving world leading standards in animal welfare, environmentally conscious packaging and innovative farming practices which put the health of our land, Our Girls, our community and our family first.
We receive a lot of questions about our farming practices and our dairy herd so please visit our FAQ, Our Girls and Modern Farming pages for more information.
It is our strong belief that transparency is important and valued by our customers. To this end, we will be re-opening our doors to The Creamery at Bannister Downs in the near future.  This enables us to share our voluntary robotic dairy 'in action' from our viewing gallery. We look forward to encouraging visitors and welcoming all queries about what we do here at Bannister Downs Dairy. 
Please keep an eye out on our website and our social media posts for news of when we have a confirmed date to be open once more.
If you are looking for the closest location to purchase your Bannister Downs Fresh milk, creams and flavoured milks, head to our store locator where you will find a list to choose from, according to your most convenient location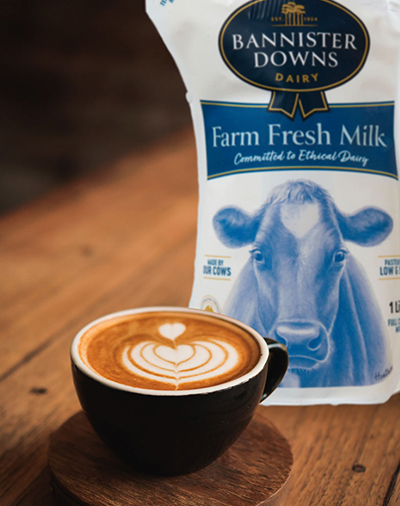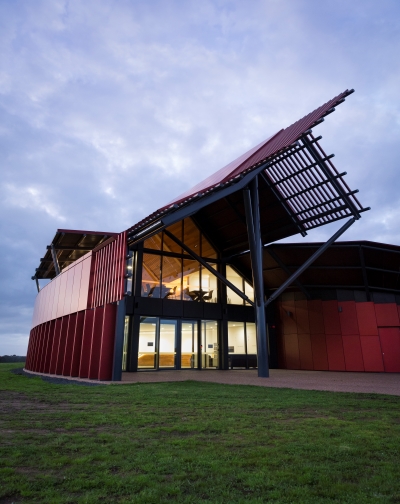 Designed over several years by Bosske architects and constructed by Perkins Builders (Bunbury) the Creamery was a large and exciting project for everyone involved.  Apart from winning several design and construction awards, it is a wonderful place to see our girls each day, to process, fill and dispatch our products daily and to do our best to look after our team and customers from our administration.  Click here to read in more detail