Nearly 100 years of farming experience has enabled us to perfect the multi award-winning Bannister Downs Dairy range which is considered to be one of the premium dairy brands in Australia.
Every single one of our products has won the acclaim of state and national judges who have recognised the consistent standard of quality dairy produced at the Northcliffe-based farm, owned by the partnership of Gina Rinehart and Mat & Sue Daubney, and operated by the Daubney family and their hardworking team. We guarantee when you buy a product with the Bannister Downs Dairy logo, it's as fresh, natural, and nutritious as it can possibly be, with absolutely no additives – just all-natural, farm fresh flavour. Discover our range.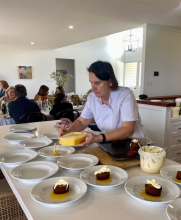 Kate Lamont plating up her delicious Lime and Ginger Madaleines with dollops of Bannister Downs Dairy's Double Cream at Broughton Farm (Boddington) ladies luncheon, a heavenly combination!
Our range:
Click on a product to learn more.
Farm Fresh Milk

---

Pure as nature intended, our award-winning Farm Fresh Milk is creamy, smooth, nutritious and delicious – absolutely nothing added.

Our Farm Fresh Milk is made by our Our Girls every day. It's homogenised to blend the natural cream evenly, and pasteurised using our traditional low temperature methods.  We don't add a single thing to our Farm Fresh Milk – it tastes just the way it should and it comes in our eco-friendly pouch to lock in all that delicious flavour while helping to ensure your milk consumption has the smallest footprint on your environment.

Find our Products

All Lite Milk

---

The ideal low fat, yet flavoursome milk, our award-winning All Lite Milk has just 0.99% fat without compromising on taste.

We diligently researched the compromise between fat content and flavour when we were finding the balance of both for our All Lite Milk.  Our All Lite Milk is processed exactly the same way as our Farm Fresh Milk, just with a portion of cream removed at the separation stage. We don't take away other nutritious milk solids which means we've been able to retain a wonderful dairy flavour, not normally associated with low fat milk.

Find our Products

Non-Homogenised Milk

---

For the cream-lovers out there, we're pleased to offer our award-winning Non-Homogenised full cream milk in a vintage glass bottle.

By-passing the homogenisation process creates a delicious, thick layer of cream formed at the top of our bottles of Non-Homogenised full cream milk.  This means that you can taste that wonderful 'creaminess' people used to enjoy when their milk was delivered in bottles by the milkman all those years ago.  Our Non-Homogenised milk is pasteurised with our traditional low temperature pasteurisation

Find our Products

Lactose Free Milk

---

For those people wanting to enjoy the flavour of pure, fresh dairy, but may have some intolerance to lactose, we have created a lactose free version of our award winning Farm Fresh (full cream) Milk. 

Lactose intolerance is due to the inability to digest natural milk sugars because of a lack of the gut enzyme lactase.  Fortunately lactose can be removed from milk without impacting the other delicious and nutritious milk qualities. 

We have 'hydrolysed' the lactose sugars using a natural lactase yeast enzyme, which converts lactose to glucose and galactose.  Both glucose and galactose are more sweet than lactose, which does make our lactose free milk a little sweeter than regular milk.

Enjoy your next coffee, bowl of cereal or milkshake without the symptoms associated with lactose intolerance!

Find our Products

Farm Fresh Milk Bottle

---

Our award winning and very much favourite, Farm Fresh Milk, is now available in a 745ml Glass Bottle for those wanting a slight smaller portion and/or bottled option for their milk. 

We know you will enjoy every drop in your coffee, your bowl of cereal, your milkshakes and everything in between!  It's no wonder Bannister Downs Farm Fresh Milk was voted Australia's Favourite Milk at the 2022 Australian Grand Dairy Award's for the People Choice Award!

Find our Products

Cafe Au Lait

---

Local, fresh and delicious coffee flavours await with our award-winning Café Au Lait, combining Farm Fresh Milk and locally roasted coffee beans from Yahava, Margaret River.

Best served chilled over ice or warmed to perfection café latte style, our Café Au Lait is light on fat but full on flavour.  A healthier option for a coffee flavoured milk which is 98% fat free, with real freshly percolated coffee beans and minimum natural sugars, all blended with our Farm Fresh Milk. That means no extra sugar, no artificial flavour and no extra guilt.  Enjoy this tasty coffee treat, made in partnership with another South West owned and operated company – Yahava Koffeeworks, based in Margaret River.

Find our Products

Chocolatte

---

Satisfy those chocolate cravings with our award-winning Chocolatte, blending Farm Fresh milk and premium Dutch cocoa for a smooth, creamy chocolate milk.

Enjoyed chilled or warmed for the ultimate hot chocolate perfection, our 98% fat free Chocolatte treat won't leave you disappointed.  Made with our Farm Fresh Milk and the highest-grade Dutch cocoa, our Chocolatte has minimum added sugar and no preservatives, artificial flavours or colours – it's just real chocolate and real milk. Prepare to fall in love with this delicious chocolate milk treat without chocolate-lover guilt, only cravings for more.

Find our Products

Mango Smoothie

---

Share the 'mmmmm' as you enjoy the smooth flavour of our award-winning Mango Smoothie, made with Australian grown mangoes and our Farm Fresh Milk.

All natural, all fresh and completely delicious, this 99% fat free delight is the perfect breakfast on the go.  We don't add any colours, preservatives or artificial flavours – all you're drinking is Aussie mango and Aussie milk combined for a refreshing smoothie. It's fresh, light, and filled with flavour.

Find our Products

Fresh Cream

---

Pure, rich and smooth – our multi-award-winning Fresh Cream is made only from premium quality fresh milk, perfect for pouring or whipping to compliment your favourite desserts.

We produce our real, traditional Fresh Cream the old-fashioned way.  It's straight from Our Girls and tastes just like nature intended.  We don't add anything to our cream, no stabilisers, no gelatine, no preservatives or flavours – it's only pure, real cream.  Our low temperature pasteurisation process and our chalk based packaging help to lock in the pure dairy flavour that we all love to accompany our desserts.

Find our Products

Double Cream

---

Our multi award-winning Double Cream is decadence in a jar, guaranteed to impress even the fussiest cream connoisseur.

Winning the accolade of Champion Cream at the Australian Grand Dairy Awards, our Double Cream does all the work itself – there is absolutely nothing added to achieve that signature luxurious thickness and rich flavour.  Made directly from Our Girls, and with a unique heavenly taste, so pure and natural.  With its smooth texture and delicious creaminess, our premium Double Cream is the ultimate way to guarantee the perfect flavour compliment for your next dinner party dessert.

Find our Products

Choc Cherry Delite

---

If you are a Cherry Ripe lover, then treat yourself to our award-winning Choc Cherry Delite which will leave you satisfied, without the calories !

Our range of Betty's Milk Bar flavoured milks is made with Bannister Downs Dairy Farm Fresh milk to create a vintage vibe flavoured drink.  Bottled in our vintage glass jars, the Betty's Milk Bar flavoured milk range offers the hip hop flavours of a 1950's milk bar.

Find our Products

Spearmint Blitz

---

Refreshing and smooth, our award-winning Spearmint Blitz flavoured milk is just what you need on a hot and sweaty day.

Harking back to the 1950's milk bars, Betty's Milk Bar flavoured milks are made with Bannister Downs Dairy Farm Fresh milk to create a vintage vibe to enjoy.  Bottled in our vintage glass jars, the Betty's Milk Bar flavoured milk range are fun, low fat and very refreshing.

Find our Products

If you are looking for the closest location to purchase your Bannister Downs Fresh milk, creams and flavoured milks, head to our store locator where you will find a list to choose from, according to your most convenient location

Designed over several years by Bosske architects and constructed by Perkins Builders (Bunbury) the Creamery was a large and exciting project for everyone involved.  Apart from winning several design and construction awards, it is a wonderful place to see our girls each day, to process, fill and dispatch our products daily and to do our best to look after our team and customers from our administration.  Click here to read in more detail