Our goal every day is to produce the very best milk possible. As our business has grown, we have been delighted to see a massive lift in our 'coffee culture' consumer base. Preference for our multi award-winning Bannister Downs Farm Fresh and All Lite Milks from this sector of our community is something we are extremely proud of for many reasons.
Firstly, we are a proudly Western Australian-owned and operated family business and we recognise many of our café and restaurant customers fit the same mould. We have a first hand understanding of the hard work that goes into building a successful small business, so we're proud to stand alongside hundreds of Western Australian families who have selected our local milk as their preferred traditional dairy to brew up a storm with in their cafes. More broadly, Australian coffee culture has a global reputation which we are excited to just contribute to, with more and more West Australian baristas choosing Bannister Downs Dairy milk as their first choice for a silky, easily textured pour to create premium coffees.
So why is that? We believe there are a number of reasons why Bannister Downs is the perfect choice for the coffee connoisseur.
We believe that our traditional low temperature pasteurisation method is key. It takes a little longer and a bit more work from our end, but we know it's worth the effort because our processing method has the lowest possible impact on milk proteins and enzymes. This means we're creating a pure, natural flavour of the highest quality without heat treating our milk to high temperatures, meaning the first time our milk gets really hot, is when your barista is steaming it to perfection for your daily latte. We are one of the few (if only) processors in Australia using this slower method and we also guarantee nothing is added to our milk – it's a pure as it gets, straight from Our Girls.
We aspire every day to be global leaders in ethical dairy . Animal welfare has been at the top of our priority list since the very first cow strolled through our farm gates nearly 100 years ago so we're glad to have growing interest from consumers as to how we go about our day-to-day farm life, adhering to world leading standards of animal welfare. To this end, we've been delighted to welcome visitors to see Our Girls in action at our new state of the art voluntary robotic dairy from the viewing platform at The Creamery on Bannister Downs Farm in Northcliffe. We think coffee lovers across WA appreciate this commitment to transparency.
We also see our footprint on the environment as a crucial consideration as we strive to lead the world in ethical dairy practices. We know consumers care about this too and it's been an important part of our business from the start. Our 15-year-long partnership with Ecolean demonstrates our commitment to sustainability within our business. The eco-friendly packaging we source from Ecolean is made with natural materials, it's low impact, low waste, light weight and it takes up way less room than traditional milk carton packaging which is handy for the busy barista during the morning rush for caffeine. 
Contact: Order Bannister Downs milk for your café or restaurant today by contacting us via email: info@bannisterdowns.com.au, phone: 0897764555 or from the website click:  Contact Us
We welcome any enquiries about our milk and farming practices here at Bannister Downs Dairy. Visit our FAQ page for more information or you can contact us directly via email.
If you are looking for the closest location to purchase your Bannister Downs Fresh milk, creams and flavoured milks, head to our store locator where you will find a list to choose from, according to your most convenient location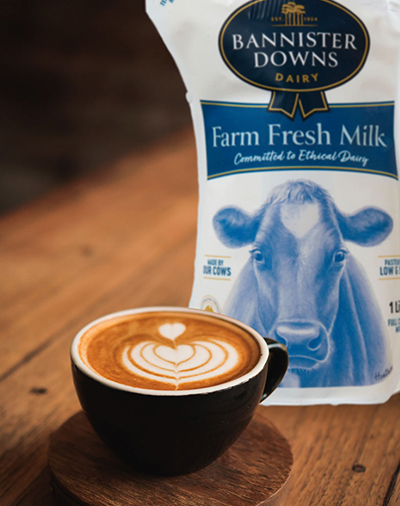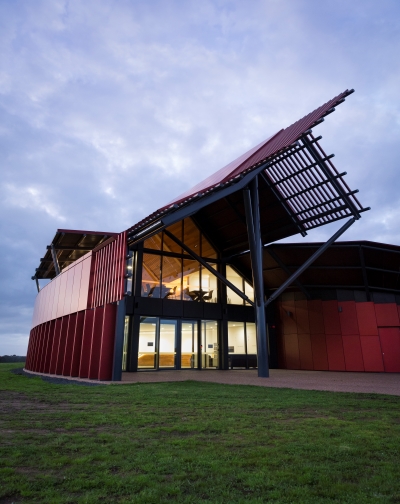 Designed over several years by Bosske architects and constructed by Perkins Builders (Bunbury) the Creamery was a large and exciting project for everyone involved.  Apart from winning several design and construction awards, it is a wonderful place to see our girls each day, to process, fill and dispatch our products daily and to do our best to look after our team and customers from our administration.  Click here to read in more detail