Marketing Bannister Downs Premium Fresh Dairy in Singapore
Prior to Covid, Mrs Rinehart AO suggested that Bannister Downs also supply its fine dairy products to Asia, and arranged some initial opportunities, however Covid delayed that implementation.  Since then, further Singapore and Asian marketing trips have occurred, led by Mrs Rinehart, and over several months, the paperwork is now completed, to enable first shipments to Singapore.  Accordingly, Mrs Rinehart travelled to Singapore after her visit to Japan for the world championships (and other meetings)  and met with and delivered Bannister Downs samples to the Executive Chef of the Raffles in Singapore. The Raffles is one of the many fine hotels and fine dining restaurants, which appreciate the importance of quality fresh ingredients. 
Our enthusiastic and dedicated partner, Mrs Gina Rinehart AO , is proud to explain the unique and healthy attributes of Bannister Downs award winning fresh milks and creams, starting with the care of the dairy cows to ensure they are happy and healthy, a value prioritised by both the Daubney's and Mrs Rinehart, and this animal care, is now proven to have beneficial effects according to recent studies by Associate Professor Vicky Solah, Academic Chair of Food Science and Nutrition at Murdoch University.
Images below from Mrs Rinehart's recent marketing visit with the Michelin star rated executive Chef at famous Raffles Hotel, Singapore.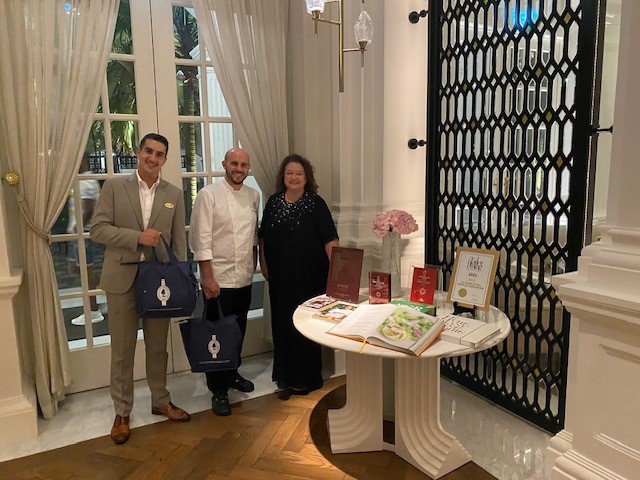 Authored on
Sun, 07/30/2023 - 10:58
If you are looking for the closest location to purchase your Bannister Downs Fresh milk, creams and flavoured milks, head to our store locator where you will find a list to choose from, according to your most convenient location