Dairy study hoping to establish formal link between animal care, high levels of vitamins and minerals
BANNISTER DOWNS is owned by the Daubney Family in partnership with HPPL, led by its Executive Chairman, Mrs Gina Rinehart AO, and their business relationship, spanning close to a decade, is strong as their shared priority around animal welfare and wellbeing means that there is a solid alignment to their business focus, and the care of their cattle is paramount.  Mrs Rinehart is an enduring advocate for the importance of animal welfare having gone to great lengths and made ongoing investment on the cattle properties HPPL owns to introduce infrastructure and systems in order to reduce or eliminate any stress on cattle wherever possible.  An example of this would be the installation of shade in paddocks and over water troughs, which can reduce water temperatures by up to 10 degrees and make a very significant difference to cattle in the heat, when every degree cooler counts!
For almost 18 months BANNISTER DOWNS has been working closely with a research team at Murdoch University to study the overall nutritional profile of leading milks available in WA and also their differences.  The results to date have shown that BANNISTER DOWNS fresh milk has a clear quality (and nutritional) advantage, with top results in each protein studied so far and continuing with strong results in the ongoing research of the vitamin levels.  Of key interest is to understand why the milk from BANNISTER DOWNS has such an excellent nutritional profile and each variable is being considered in this investigation.  According to Associate Professor Vicky Solah (Project lead), her belief is that the farm management and herd behaviour play a major role in the overall milk quality.
It is excellent to learn that the shared foundation of a genuine concern for animal well-being from the Daubney's and Mrs Rinehart, may very likely also be the reason why BANNISTER DOWNS milk is not only so well loved by discerning chefs and consumers, but also so good for you!
Researchers are hoping a new study of the milk produced by several Western Australian dairies may help establish a formal link between healthy livestock and healthier produce. 
Staff from Murdoch University examined the milk from six WA dairy farms, assessing levels of vitamin B12, B2, calcium, and a protein called lactoferrin, among others.
Associate Professor Vicky Solah said Bannister Downs Dairy in Northcliffe had the highest level of B12 and also ranked in the top two for calcium levels. 
Dr Solah believes farm management and herd behaviour play a major role in overall milk quality. 
"I think the management of the farm is really important for all sorts of quality aspects," she said.
"Healthy cows produce a good product … and the cows there don't produce a huge volume per day."
"Also the understanding that they do low, slow pasteurisation, I think that's also a good thing."
Dr Solah said most dairies pasteurised at 72 to 80 degrees Celsius, while Bannister Downs pasteurised at 66.6C for five minutes.
Bannister Downs Managing Director Sue Daubney said the results, and the potential for additional study, were exciting.
"Ever since we started producing our milk we've been curious to find out if there is something different or special about it and, if so, get to the bottom of it," she said. 
Read the full article: https://www.abc.net.au/news/rural/2023-08-03/scientists-compare-vitamins-and-minerals-in-milk-from-wa-dairys/102659496
Research Journal Article : https://www.cambridge.org/core/journals/proceedings-of-the-nutrition-society/article/exploring-differences-in-western-australian-milk-quality-and-nutrition/13E695756983664A5F84F4A50F8249FC
The importance of Lactoferrin:  "Lactoferrin has been shown to be involved in several physiological and protective functions, including regulation of iron absorption in the bowel; antioxidant, anticancer, anti-inflammatory and antimicrobial activities, which are the most widely studied function to date."
Source: https://www.ncbi.nlm.nih.gov/pmc/articles/PMC5198036/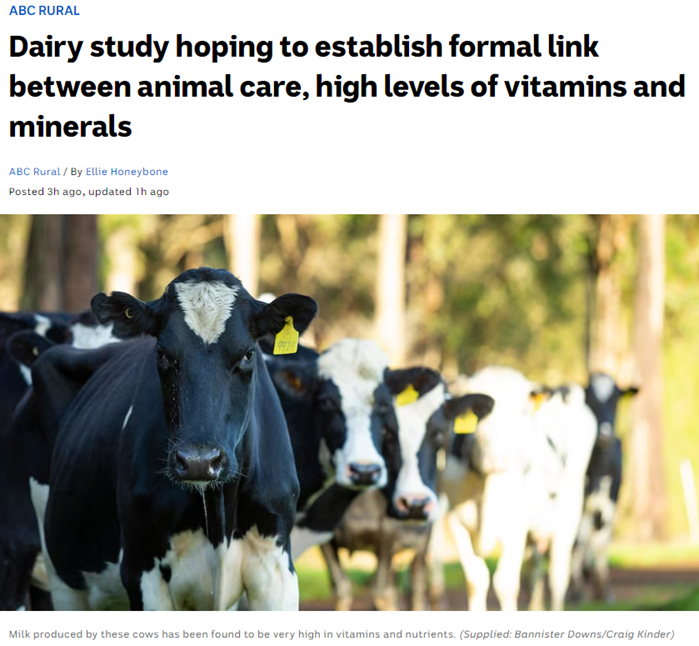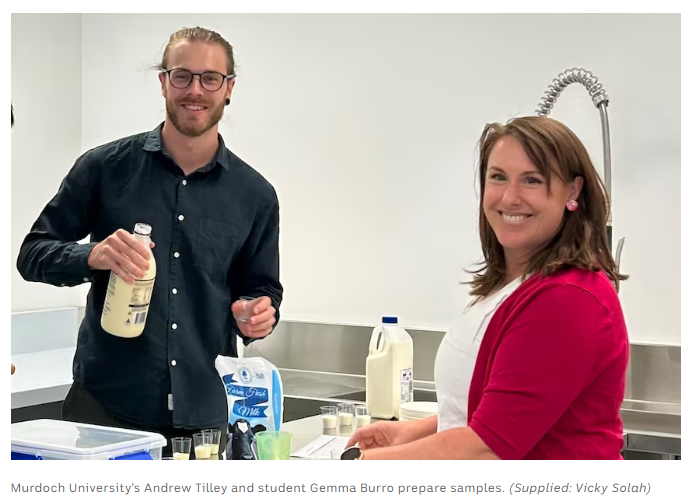 Authored on
Thu, 08/03/2023 - 15:15
If you are looking for the closest location to purchase your Bannister Downs Fresh milk, creams and flavoured milks, head to our store locator where you will find a list to choose from, according to your most convenient location