Bannister Downs Farm Fresh Milk wins at Australian Grand Dairy Awards 2022
WA family business produces Australia's most popular dairy product
Bannister Downs Dairy has been voted the most popular dairy product in the country at the 2022 Australian Grand Dairy Awards (AGDA) – believed to be the first West Australian business to have done so in the awards' history.
The awards are the most prestigious dairy awards in Australia and showcase the very best of Australia's dairy produce.
Bannister Downs award-winning BANNISTER DOWNS Farm Fresh Milk, which comes in a sustainable pouch manufactured in Sweden, was awarded the People's Choice Award for the most popular dairy product in the country.
The win is a huge achievement for the 100% WA owned and operated business and a vote of confidence from Australia's milk loving public.
Bannister Downs Dairy is a joint venture partnership between operators, Mat and Sue Daubney and Hancock Prospecting's Gina Rinehart.
Founded in 1924 by pioneers Edith & James Daubney, Bannister Downs has been farmed by three generations of the Daubney family and is now managed by their grandson, Mat and his wife Sue and their four children (when they are home on farm).
The farm in Northcliffe, in the South-West region of Western Australia is an ideal location for dairy production as it enjoys high to moderate rainfall and an abundance of natural pasture to ensure a year-round supply of premium quality milk. Clearly the National accolade for BANNISTER DOWNS Farm Fresh Milk reflects this well-suited environment for milk production and happy cows.
The Daubneys began producing milk for consumers to enjoy, from their farm in Bannister Downs in August 2005, instantly winning Champion Milk at the Perth Royal Show that year for their second batch ever produced and have grown to produce more than five million litres annually.
Mrs Rinehart entered into a partnership with the Daubneys in 2014, as the couple could not meet escalating demand for their product, in a strategic partnership that would allow them to continue to focus on producing a premium product in larger volumes without compromising their core business and operational values.
Mrs Daubney said the People's Choice Award win was a huge milestone for the company after a challenging few years navigating the impact of the pandemic and it was a fantastic recognition for their team's absolute dedication to producing a premium product in a sustainable manner.
"It's testament to our team and to our herd – our girls – and the ongoing investment in our product," Mrs Daubney said.
"We've gone from a team of three when we started out in 2005, to now around 56, with the invaluable assistance of a partner who we trust and who shares our values and wants to see this iconic WA business perform on the world stage.
"We have always set out to achieve excellence and this award is evidence that as a small business we are well on our way to achieving that."
Mrs Rinehart said she shared her partners' excitement on taking out this wonderful award and looked forward to seeing the company continue to thrive. 
"It is very exciting to hear of the win for our fresh milk in the prestigious 2022 AGDA People's Choice Award – a most deserved recognition for the efforts of the hard-working team and a great reward for their commitment and dedication to taking care of everything, from the paddock through to deliveries, and particularly in these challenging times since early 2020," Mrs Rinehart said.  
"I'm very proud of Bannister Downs winning this 'best in Australia' accolade!"
Image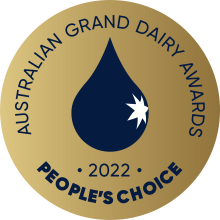 Image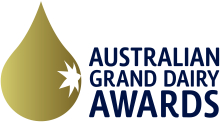 Authored on
Mon, 05/30/2022 - 11:56
If you are looking for the closest location to purchase your Bannister Downs Fresh milk, creams and flavoured milks, head to our store locator where you will find a list to choose from, according to your most convenient location